As a young adult, you might have gotten only the barest essentials for your bathroom. Money was probably tighter and all that mattered was function. You didn't need fancy candles for your toilet or an elegant soap dish. All that was needed was the basics. However, perhaps now that you're older and more established, you start wanting a little more pizazz in your bathroom decor and are looking for good bathroom ideas. But that doesn't mean you need to clutter your bathroom vanity up with useless decorations. Instead, you can also seek to get functional accessories that can double up as design too! With this, you won't have to worry about unnecessarily cramping up your bathroom! You'll be getting useful items that spice up your bathroom too! 
The great news is that all of these functional bathroom accessories are easily found. The market is saturated with all these fancy functional bathroom accessories. And we've compiled the best options for you to choose, so read on! 
1. Bamboo Bath Mat 
If you're sick and tired of always having to launder your bath mat, a bamboo mat will be the perfect change for you. Bamboo bath mats are a great new addition for bathrooms as they bring a sense of nature into your bathrooms. Furthermore, they're self-drying and require zero maintenance effort. The only thing that you need to do is ensure it's placed in a well-ventilated area. This is what will prevent it from rotting and it will instead, dry naturally. If you have an outdoor shower, this will be even more perfect for you.
2. Luxury Towels 
Towels are a must for every bathroom and a great way to spice up your space will be to get yourself a luxury towel set. If you're into minimalism, a plain but fluffy set will be great. You could pick a set that suits your bathroom color scheme to spice it up. Furthermore, it'll be the perfect cocoon post-bath. If you're into something fancier, you can get one with patterns and textures. This will add even more design to your bathroom. If you're living with a partner, you can even consider getting matching towel sets to be couple goals. 
3. Fancy Soap Dishes 
Soap dishes are absolutely functional, after all, you'll need a place for your soap bars to rest post-use. If you're looking to spice up your decor, you could pick a soap dish with a little more pizazz. If you're into minimalism, marble or sleek metal designs may suit you. Or if you're into something a little more lowkey, a cute stone dish would be great too. To match, you could even get tissue box covers, tumblers, soap dispensers, and/or a toothbrush holder in the same design. This will add cohesiveness to your bathroom look. When picking your soap dish, you might want to find one that allows easy cleaning and draining of water. This will make it easy to maintain as well. 
4. Bath Caddy Tray 
A bath caddy tray is a great way to spice up your bathroom look. Having a bath caddy tray automatically upgrades your bathroom to look like one of a luxury hotel. What's more is that the caddy tray is completely functional and allows you to place your other accessories on it – your soap bottles, candles, towels can all easily fit on it. If you're taking a soak, you can also place your computer on it to play a movie. If you're looking for one, a wood finish bath caddy is always best as it adds a natural aesthetic to your shower. This is of course only if your bathroom has a more woodsy, natural aesthetic. Aside from that, make sure you get one that is waterproof or you'll have to replace it soon. If you have a more industrial or minimalistic looking bathroom, you can always find a metal bath caddy tray instead! 
5. Stools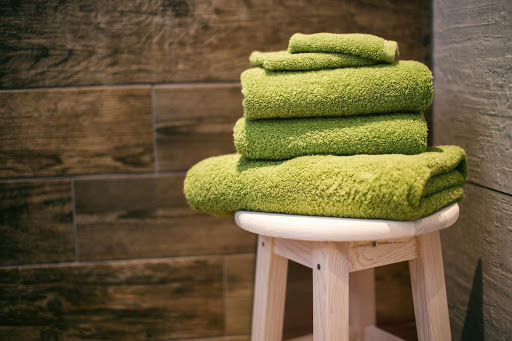 Stools are a little less functional if you don't have kids who need the extra height. However, they can still be used as mini tables for placing items. For example, you could place your plants or magazines on stools. The stools we would suggest are from the Serena & Lily collection. These stools are completely hand made from teak wood. They are then dip-dyed in navy or white paint to create a pop of color. These stools are nordic in design and serve as cute corner additions for any bathroom! 
6. Fancy Etagere
If you're lacking bathroom storage, an etagere is the perfect solution for you. The etagere can easily add several shelves of space for you to display your various accessories and bathroom needs. From soap bottles to grooming products to towels, an etagere is the perfect solution. However, compared to the plastic, clumsy-looking etageres you might have gotten in college, the Frontgate Belmont etageres are classier and sleeker. These shelves are made of steel and aluminum and beveled tempered glass are used as shelves. If your bathroom has a sleek, minimalistic feel, these would be perfect storage additions.
7. Bamboo Hamper 
If you're looking to fancy up your bathroom, odds are you'd want a hamper. Hampers are great places for your used clothes and they ensure that you don't end up with a clothes-strewn floor. Put aside your IKEA hamper and choose to get West Elm's, Bamboo Hamper. This hamper is fashionable and can match any bathroom's color scheme with its eggshell finish. It's also small and hence, would be a fit for any tiny bathroom. Additionally, this hamper also features a shelf for you to keep your clean towels. It's simply the best accessory to have in your bathroom! 
Conclusion
The days of having a simple, basic bathroom is out. You're older now and having some personal style in your home is completely warranted. This is especially as bathrooms are some of the most intimate spaces for people. Therefore, you'd want to have a bathroom that's both comfortable and stylish. This would make it wonderful to be in and you'd enjoy your bathroom time a lot more.